School Program
Research reveals convincing evidence that youth involved in our programs transferred life skills to multiple settings and learned and used life skills through the game of golf. Our curriculum, combined with trained educators, empowers participants with a set of skills that prepares them for a lifetime of new challenges.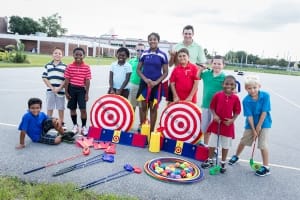 We integrate our program into PE classes across the Greater Charlotte area. We've equipped educators at local elementary schools with our curriculum built around the game of golf, while positively impacting kids through both the game and its inherent ability to improve social-emotional learning (SEL) skills.
This program aligns with national physical education standards developed by the Society of Health and Physical Educators (SHAPE) and is designed to allow physical educators the ability to adjust lessons to fit their specific teaching situations in terms of class size, time, and facility type.
What is provided?
We provide the training, equipment, and lesson plans that integrate life skills and values with the game of golf and motor skills.
What schools currently have the program?
We are in all of the schools in Mecklenburg County, Union County, Cabarrus County and Fort Mill School District. We are also in schools in Alexander County, Catawba County, Gaston County, Hickory Public Schools, Lancaster County, Lincoln County, Newton-Conover City Schools, and the Rock Hill School District.
To find out if your school is involved, or if you have any questions, please contact Kell Graham at [email protected].